TOP 10 BARS AND RESTAURANTS IN NEW YORK
New York: What to do and where to eat
New York, the metropolis with a thousand nicknames and plenty of entertainment, is a city that deserves to be seen, visited and lived deeply at least once in life. Although we walked in its streets, caught trains from its stations and sipped hundreds of coffee in its bars in thousands of films and television series, nothing is like seeing it for real. If you are planning a trip to New York, then here is a selection of its best bars and restaurants, to live - and eat - like a local.
Daniel Rose, an American chef based in Paris, has just opened his new restaurant Le Coucou (138 Lafayette Street, New York, Usa) in Manhattan. It offers exquisite French gastronomy in a refined setting, among velvet sofas and huge chandeliers. Try tepid oysters served with seaweed butter and scallops with roe and lime while in NY.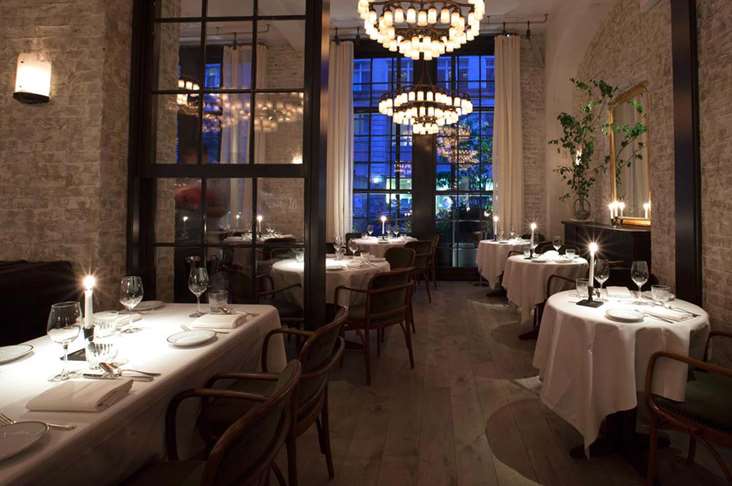 Looking for a hot dog with a stunning view? Try 230 Fifth (230 5th Avenue, New York, Usa), easily the best rooftop bar in the city! The price of the new gourmet hot dog depends on its length. Enjoy it with champagne after a nice cruise.
Looking for some sweet treat after a challenging cruise in New York? Stop at Momofuku Milk Bar (382 Metropolitan Ave. Brooklyn, New York). The perfect reward after an adventurous voyage!
Looking for a delicious and out-of-the-ordinary eating experience in NYC? Popular Aussie cafe Two Hands (164 Mott St, New York, NY 10013, USA) offers a mouth-watering menu. Try the smashed-avocado toast with charred scallions and the burger with a fried egg. You will make your holiday in the Big Apple even more amazing than it already is!
Can interior decorations make the success of a restaurant? Apparently yes. The Italian restaurant Pietro Nolita (174 Elizabeth Street, New York, Usa) is completely pink, from tables to chairs. Newly opened, it is already attracting socialities all around the Big Apple. Stop by while in NY.
Like rooftop bars? Then New York is definitely your city! We suggest Azul Rooftop (525 Greenwich Street, West Village, New York), on top of Hotel Hugo, to enjoy live music, excellent cocktails and a fantastic view of the Big Apple. Do not miss it while on holiday here.
On top of Pod 39 Hotel (145 East 39th Street, Murray Hill, New York) you'll find the nicest and probably the most colorful cafè of the Big Apple. Terracotta columns, sofas with multi-colored cushions and floor-to-ceiling windows add a twist to the ambience. Enjoy the Mexican-inspired menu, matched with a fabulous view of New York City.
There is a bit of Tahiti in New York: you'll find it at Tiki Tabu (Sixty LES, 190 Allen Street New York): with its palms, lava lamps, pineapple-shaped cocktail cups and tropical wallpapers, it will really make you feel on a paradise island. Do not miss it while in New York.
Hudson Clearwater (447 Hudson Street, New York) is nothing you'd expect from a New York cafè. Tucked away in a backyard, this European-style bistrot serves delicious steaks with excellent wine. The menu is based on fresh sustainable ingredients: the ideal eaterie after a long day of sightseeing.
The most intriguing feature of La Esquina (114 Kenmare Street, New York) is that, past the street-level cafè, it hides a secret subterranean brasserie and tequila bar, that you can access only on reservation. From Mexican tapas to the finest tequila you can ever try outside Mexico, believe us: it is really worth a stop.